Dentures (Full and Partial)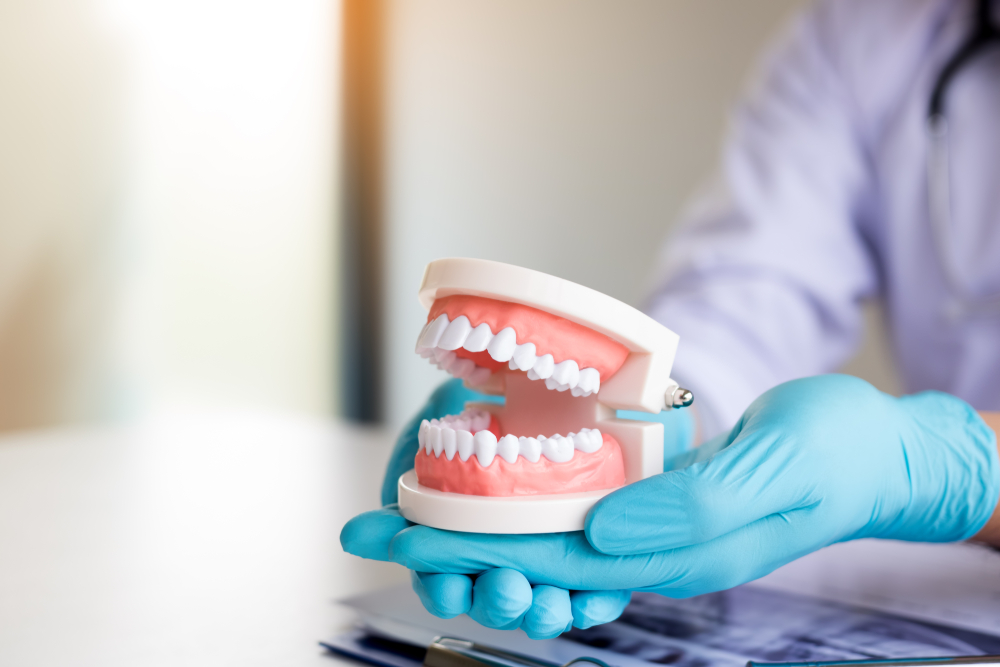 At Southwest Dentistry, we are committed to providing exceptional dental care for you and your family. We understand the importance of dental health and its impact on your overall well-being. Missing teeth can not only affect your oral function but also have a significant impact on your confidence and self-esteem. That's why we offer dentures as a reliable and effective solution to restore your smile and oral function.
What are Dentures?
Dentures are removable dental appliances designed to replace missing teeth and surrounding tissues. We offer two types of dentures: full dentures and partial dentures.
Full Dentures
Full dentures are used when all of your natural teeth are missing. They consist of a complete set of artificial teeth mounted on a gum-colored acrylic base. Full dentures are custom-made to fit your mouth perfectly, providing you with a natural-looking and functional smile.
Partial Dentures
Partial dentures are used when some of your natural teeth are still intact. They are designed to fill in the gaps created by missing teeth and are attached to your existing teeth using metal clasps or precision attachments. Partial dentures restore your smile and help maintain the alignment of your remaining teeth.
Implant-Supported Dentures
Implant-supported dentures combine the benefits of dental implants with the convenience of dentures. They are designed to be securely anchored to dental implants that are surgically placed in your jawbone. These implants act as sturdy foundations for your dentures, eliminating the need for messy adhesives and enhancing overall stability.
With implant-supported dentures, you can say goodbye to the worry of dentures slipping or clicking while eating or speaking. The implants hold the dentures securely in place, allowing you to enjoy your favorite foods and engage in conversations with confidence.
Benefits of Dentures
Dentures offer numerous benefits in restoring oral function and aesthetics:
Restored Functionality: Dentures allow you to chew and speak with confidence, enabling you to enjoy a wide variety of foods and communicate clearly.
Improved Appearance: Dentures enhance your smile and restore your facial contours, providing a natural and youthful appearance.
Facial Structure Preservation: By replacing missing teeth, dentures help prevent the sagging of facial muscles and the collapse of facial structure, preserving your facial aesthetics.
The Dentures Process
The process of getting will vary depending on whether you need full or partial dentures, but you can expect the following steps:
Initial Consultation: We will assess your oral health, discuss your concerns and goals, and determine if full dentures are the right solution for you.
Impressions and Measurements: Precise impressions and measurements of your mouth will be taken to create customized dentures that fit comfortably and securely.
Temporary Dentures: If necessary, temporary dentures will be provided to ensure you can eat and speak normally while your final dentures are being fabricated.
Final Denture Fitting: Once your final dentures are ready, we will ensure a proper fit and make any necessary adjustments to ensure your comfort and satisfaction.
Post-Treatment Care: We will provide you with instructions on how to care for your dentures and schedule regular check-ups to ensure they continue to fit properly and function optimally.
Why Choose Our Family Dental Practice for Dentures?
When you choose Southwest Dentistry for your denture needs, you can expect:
Experienced and Skilled Dental Professionals: Our team has extensive experience in providing denture solutions and is dedicated to delivering exceptional care.
Customized Denture Solutions: We understand that each patient is unique. We provide personalized denture solutions to ensure optimal fit, comfort, and aesthetics.
Comprehensive Treatment Plans: We develop comprehensive treatment plans tailored to your specific needs, considering your oral health, preferences, and budget.
Patient Comfort and Satisfaction: Your comfort and satisfaction are our top priorities. We strive to create a warm and welcoming environment where you feel at ease throughout your denture journey.
Schedule a Consultation
Ready to restore your smile and regain your confidence? Dentures provide a reliable and effective solution for restoring missing teeth, improving oral function, and enhancing your appearance. At Southwest Dentistry, our experienced dental professionals are dedicated to providing personalized denture solutions that meet your unique needs. With a focus on patient comfort and satisfaction, we strive to create a warm and welcoming environment where you can regain your smile and enjoy optimal oral health.
Take the first step towards a confident smile and improved quality of life by choosing Southwest Dentistry for your denture needs.